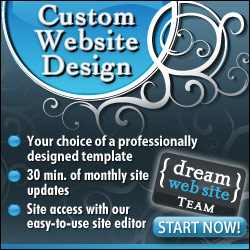 When the small business owner has his business open and is consistently producing profit, it's time to take the enterprise to the next level. A business without an online presence cannot tap into the wealth of consumers who only purchase online, nor can the business gain the attention of those who spend their lives online. A business without an online presence cannot reach the most precious of all customers: those who see something online and then drop into chat rooms on the Internet and talk about it. The eternally curious who search for all they can think of to learn something new will check into the business' website and perhaps buy. Kids are easily bored and search for anything; stumbling across the business' site will gain the business some traffic, and traffic matters. Small business website design is about snagging the attention of potential buyers.
Now the small business owner needs to consider how to integrate his existing clientele with his potential clientele using help desk and other aspects of customer management software, email promotions, keyword promotion and SEO (search engine optimization). He will then consider sales promotions, increased inventory and tax-exempt orders for educational institutions, churches and non-profit organizations. After that will come time clock software, sales tax information, invoicing and seemingly a department dedicated to IT alone. Where to begin? Why, on the web, of course. Small business website design has almost two hundred million sites complete with designers, forums to check for opinions, or even do it yourself instructions.
The first thing the business owner needs is an idea. If the business sells a product or service, then the website will need to reflect this. If the business owner sells information, such as consumer reviews for instance, then the website will need different components than sales would need. What does the owner want his website to accomplish? Will the website be the main focus of his business rather than his store or office? How will the business owner's product or service be represented best, in-house or online? How would the owner like his customers to respond, by phone or by email alerts? Will the website be monitored by a host or will the business owner be a hands-on manager?
Out of all the millions of people using the web every day, the business owner needs to choose a target market. If the product or service he sells is intended to target the 18 to 34 male market, then the owner would not need to target youngsters or the elderly. If the product or service relates more to females in the 34 to 49 market, then younger persons would not be interested. If, however, the product or service is universal and needed by all, then the owner has a choice in SEO, keyword usage, social networking to get his business noticed.
The business owner needs to consider a budget. His business is growing and he wants it to grow more, but can he afford the monthly charge to a small business website design firm? Of course he can, if he wants to take his business to a higher level, but how much can he afford? How elaborate is the website design going to be and how much tracking, such as search engine directories, SEO and keyword tracking is going to be involved? Different facets of customer relations such as help desk, surveys, bookmarking and social networking need to be considered; how much of these will be used and their costs.
Now that the small business owner has an idea what he needs, who needs his product or service and has his checkbook in hand, he can go shopping for a small business website design firm. He will begin by expressing his needs in the initial meeting and the designers will get to work putting together a plan. This will include website design, copy writing content for the site, website hosting, domain names, marketing, SEO strategies, search engine directories and so much more. Depending on the needs of the owner, the designers will build a package tailored to his needs, including marketing and tracking.
The small business owner can watch as his page is launched following design and registration. Some designers launch sites with the basics and navigation usable and leave the rest for later. This is actually a good idea since consumers can give the owner feedback on the product or service as well as the site that can be used to improve the site. It also gives the small business owner a chance to get hands-on with his site and respond to potential customers' needs and feedback. Not only that, the owner is now on the next level of business and can see first-hand what he will need in terms of personnel, increased inventory and all the rest.
Monitoring the site after launch provides instant information on tracking traffic to your site, customer contacts, phone calls and keywords used to find your site. The business owner will get reports detailing these and other aspects of website use and can make adjustments to the site accordingly.
Every small business owner dreams of being a huge entity to reckon with in the business world. His small business has grown and shows a solid profit. To take it to the next level, the small business owner needs to go online. In order to do that, the owner needs to accomplish some basic thoughts before he contacts a small business website design firm. He knows what he wants and needs, the budget with which he can do it and whom his target market is. Armed with these facts, the small business owner will be on his way to becoming a force to be reckoned with.